UNWELCOME
Archangel Academy Novels Book 2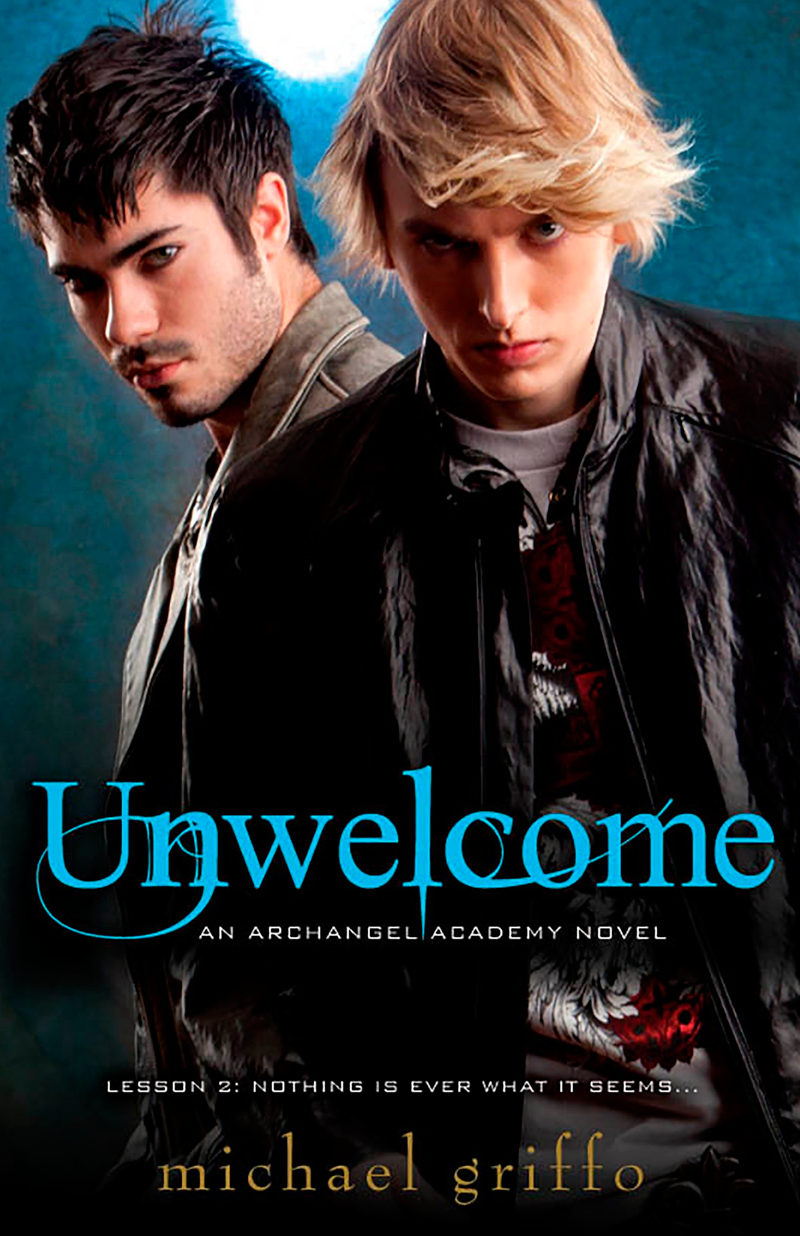 Lesson 2: The people we love most may be the ones we know least. . .
Archangel Academy is more than a school to Michael Howard. Within its majestic buildings and serene English grounds, he's found friends, new love, and a place that feels more like home than Nebraska ever did. But the most important gift of Archangel Academy is immortality. . .
Life as a just-made vampire is challenging for Michael, even with Ronan, an experienced vamp, to guide him. Michael's abilities are still raw and unpredictable. To add to the turmoil, the ancient feud between rival vampire species is sending ripples of discord through the school. And beneath the new headmaster's charismatic front lies a powerful and very personal agenda.
Yet the mysteries lurking around the Academy pale in comparison to the secrets emerging from Michael's past. And choosing the wrong person to trust—or to love—could lead to an eternity of regret. . .
GET THE BOOK
WHAT READERS ARE SAYING
"Ok so I am hooked now. Excellent story line and the transitions are getting easier to follow. There is so much teen angst that I almost had to put the book away. The author definitely drags you through all the hoorah and I am glad he does.
It's so easy to forget what first loves and emotions felt like. This book is an excellent example of love, friendship, sorrow, and so many other emotions."
– ADAM ASHLOCK
"In the English town of Eden, Archangel Academy resides on consecrated land. The vampires known as Them are able to walk around the campus in sunlight. However there is another subspecies of vampire connected to the sacred Well, who in their other form has webbed feet and hands as descendants of Atlantis.
The water vampires can walk outside in daylight and only eat once a month. The new Headmaster David Zachery is one of Them and vampire American Michael Howard and his lover Ronan are water vampires. Ronan knows who and what David is because of his relationship to their family. David and his kind want to destroy the Well and kill the water vamps. The headmaster has a plan to ethnically cleanse the world of the enemy. He uses his children as foot soldiers to carry out his scheme. Michael and Ronan lead the opposition along with their allies so who will prove victorious remains to be seen.
The second Archangel Academy (see Unnatural) teen urban fantasy is a terrific tale with a beautiful star-crossed romantic subplot that accentuates the two combative subspecies. The expatriate Cornhusker has come a long way from Nebraska in a short time but his journey even with Ronan to guide him remains difficult as he must be Unafraid of his full essence for his deep psychological need to feel accepted and belong to happen. The key to the exciting story line is that readers will accept the existence of vampires as a natural species with issues and disputes as Michael Griffo provides an enthralling and totally entertaining entry that teenage readers and adults will appreciate and put on their keeper shelf."
– HARRIET KLAUSNER
SIGN UP TO RECEIVE NEWS & UPDATES