MURDER AT ST. WINIFRED'S ACADEMY
Book 5 in the Ferrara Family Mystery Series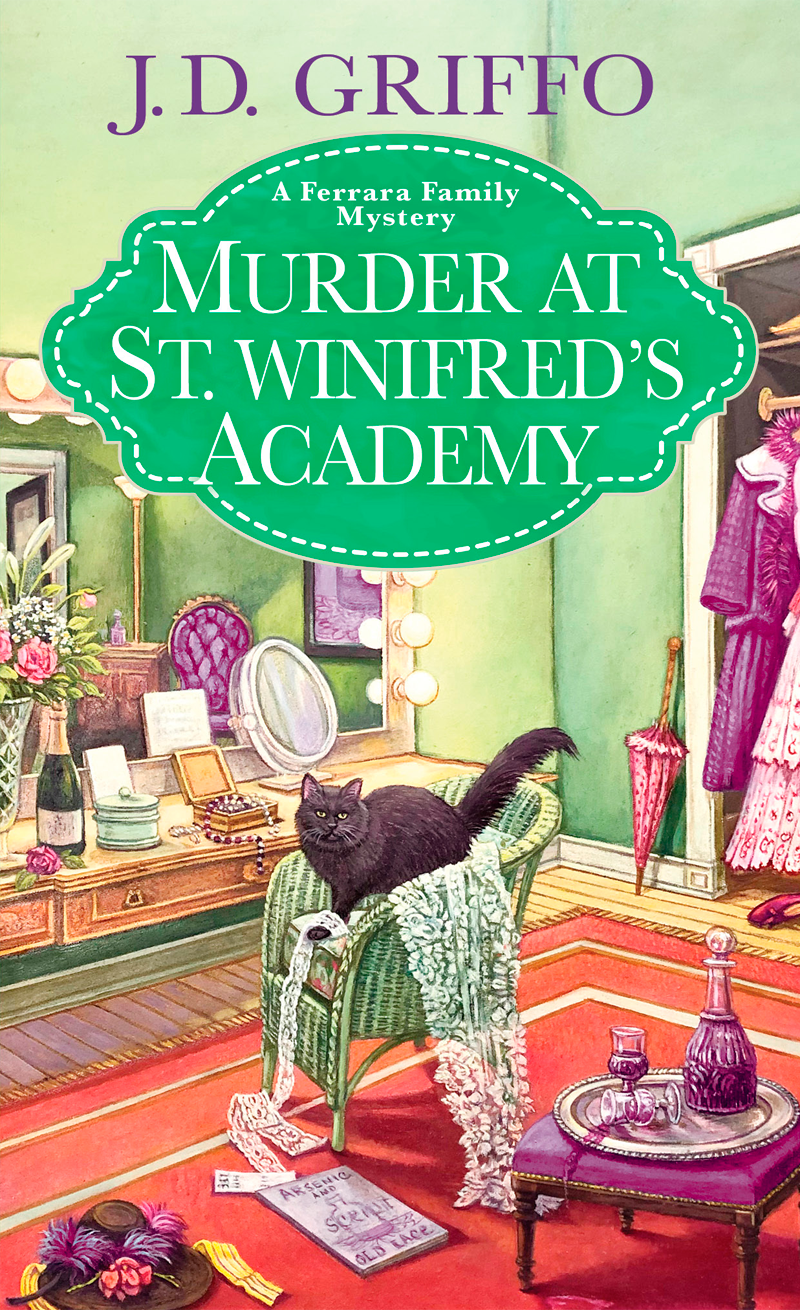 Tranquility, New Jersey's amateur drama troupe is staging a murder mystery at St. Winifred's Academy and Alberta Scaglione couldn't be more thrilled. Even her Italian-American famiglia are getting in on the act. But someone's making deadly revisions to the script . . .
Alberta can hardly believe it. Her childhood screen idol, 1950s Hollywood starlet Missy Michaels, has signed up for the local Tranquility Players revival of the classic Arsenic and Old Lace. But before Missy memorizes a single line, she's found dead in her dressing room wrapped in lace and clutching a bottle of arsenic. The ultimate drama-queen suicide? Everyone thinks so—except Alberta. A Ferrara woman knows murder when she sees it. Alberta also knows producer Nola Kirkpatrick's checkered past: whenever she's around, trouble abounds.
Alberta and her crime-reporting partner-in-sleuthing granddaughter, Jinx, have a hunch the murderer is among the Players. So Alberta joins the cast—reluctantly playing Missy's role—to get closer to the truth. She notices the director is a little unbalanced, but aren't they all? The leading man is a wildly obsessive Missy Michaels fanboy—but a murderer? Of course, the show must go on. But if Alberta and Jinx can't nab the killer before opening night, it may mean curtains for more Players . . . including Alberta.
GET THE BOOK
WHAT READERS ARE SAYING
"Murder strikes an amateur production of Arsenic and Old Lace—and not just those corpses stashed in the Brewster sisters' basement.
Millionaire Alberta Ferrara Scaglione's granddaughter, Upper Sussex Herald reporter Jinx Maldonado, has wonderful news. No, it's not that her boyfriend has finally popped the question. It's that her roommate, Nola Kirkpatrick, artistic director of the Tranquility Players, has persuaded a major Hollywood star to headline her new production of Arsenic and Old Lace. Or at least a former star, since childhood sweetheart Missy Michaels has been out of the spotlight since she gave Shirley Temple a run for her money 60 years ago. As "Missymania" settles over Tranquility and environs, members of Alberta's family circle rush to claim roles in the play without auditioning. Her sister, Helen Ferrara, calls dibs on the second Brewster sister, and Father Sal DeSoto is cast as Teddy Brewster. But the production, directed by Nola's boyfriend, Johnny Fenn, doesn't provide a comeback for Missy after all because she's murdered before the curtain goes up. Even though she's clutching a bottle of arsenic in her dead hand, she's been strangled, and Alberta promptly convenes Helen, Jinx, and Alberta's sister-in-law Joyce Ferrara to investigate. There's so much drama among the continuing cast that the poor suspects, mainly Johnny Fenn and leading man Kip Flanigan, have to clamor for attention. No matter how many complications follow, fans of the family will be relieved to know that the opening-night cast, heavy with substitutes, gets "more bravos than Patti LuPone and Nathan Lane had ever received."
The vibe, as usual, is that of a family gathering complete with amateur theatricals and homicide."
– KIRKUS REVIEWS
SIGN UP TO RECEIVE NEWS & UPDATES