MURDER AT VERONICA'S DINER
Book 4 in the Ferrara Family Mystery Series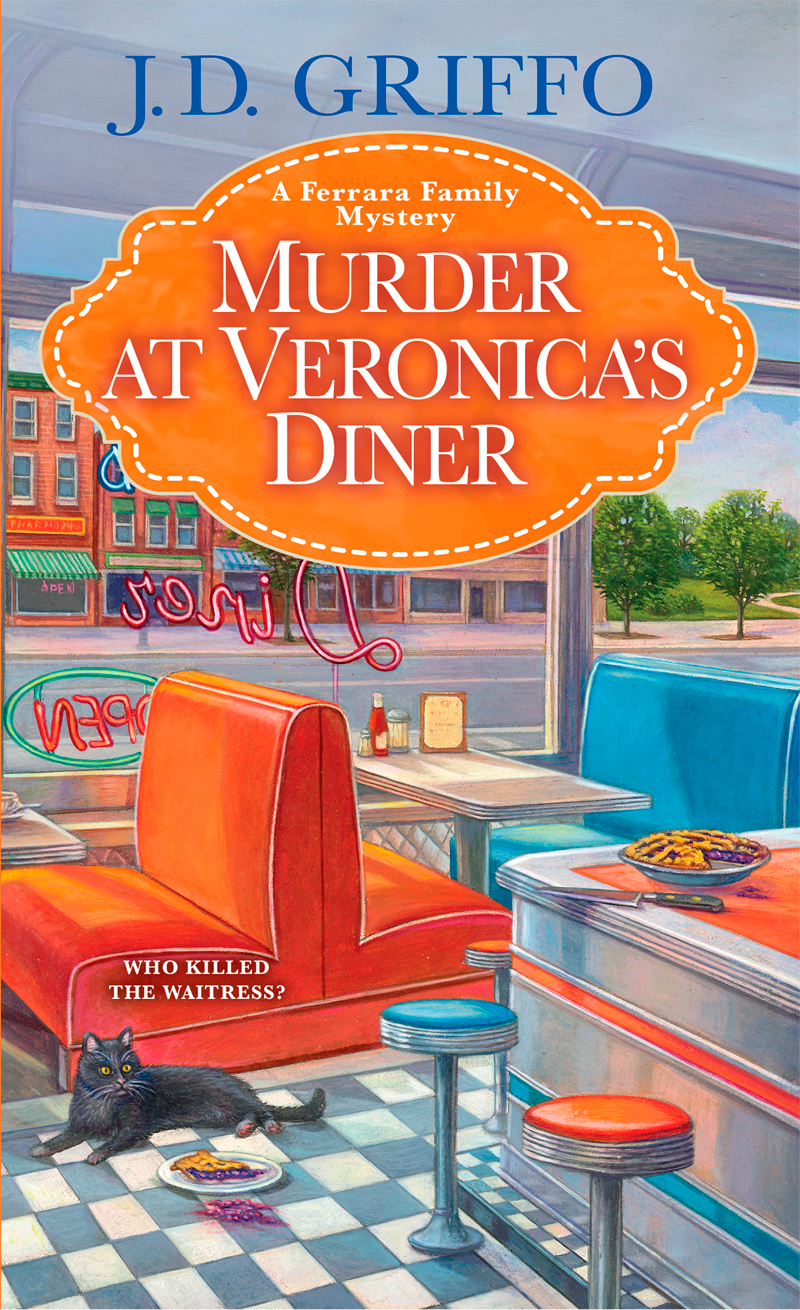 Alberta Scaglione thinks her cooking is better than anyone's in Tranquility, New Jersey—but she doesn't mind an occasional visit to Veronica's Diner. Too bad today's special is murder . . .
 
During the breakfast rush, waitress Teri Jo seems stressed out. Not surprising on a busy morning, though Alberta, her sister Helen, and her granddaughter Jinx find it odd when Teri Jo asks them to deliver a package for her "just in case."
Minutes later, Teri Jo rushes back to their table—not with a check in her hand but with a knife in her back. Veronica is upset but says she knows virtually nothing about her employee's past, and the ladies aren't sure whether to view her with sympathy or suspicion. Then they find an unusual figurine on the ground while snooping in the vicinity, and it becomes clear that this is a case for the Ferrara Family. With such a crowd at the crime scene, there are plenty of potential murderers on the menu, and the Ferraras will travel everywhere to figure out exactly where that figurine fits in . . .
Includes Italian recipes from Alberta's kitchen!
GET THE BOOK
WHAT READERS ARE SAYING
"Four feisty New Jersey women investigate the death of a waitress.
They have no office. They have no staff. They don't really have any clients. But none of that stops the ladies of the Ferrara Family Detective Agency from detecting their tiny town of Tranquility to within an inch of its previously quiet life. This time, a corpse turns up literally at their feet: As they munch their eggs Benedict (regular for sisters Alberta and Helen and their sister-in-law, Joyce Perkins Ferrara; vegan for Alberta's granddaughter, Jinx Maldonado) at Veronica's Diner, waitress Teri Jo Linbruck emerges from the rest room with a knife in her back. Local cop Vinny D'Angelo doesn't even bother warning them not to investigate, so the women go to town, again literally. After they discover that Teri Jo is actually Theresa Josefina Rizzoli, Helen hauls them all out to Brooklyn to see what they can find out about the late server at Rizzoli's Diner, her family's business. They find out enough to talk private pilot Owen O'Hara, who owns Tranqclockery, the clock-repair business next door to Veronica's, into flying them down to Henderson, Texas, where Teri's brother, Dominic, is engaged in some shady business for Third Wheel, Inc., the company that owns Godfather's Diner, the precursor to Veronica's. As the corpses pile up, Alberta keeps on the trail, eventually risking not only her own life, but that of her boyfriend, Sloan McLelland. But it's hard to get mad at Alberta or at any of the Ferraras, who are so game you can't help rooting for them.
Like the heroines' favorite eggs Benedict, not hard-boiled but tasty."
– KIRKUS REVIEWS
"Although Alberta Scaglione is an excellent cook, the Ferrara women enjoy breakfast out together. Alberta, her sister Helen, her granddaughter Jinx, and her sister-in-law Joyce all meet at Veronica's Diner in Tranquility, NJ, but breakfast isn't so tranquil. Their waitress, Teri Jo, is frazzled, so busy that she asks the women to deliver a box for her. They're about to ask for the check when Teri Jo falls at their feet with a butcher knife in her back. Although they all know Police Chief Vinny D'Angelo, they also know the Ferrara family detective agency has its next case. Helen, a former nun, had bonded with Teri Jo, and she's determined to find her killer. But Teri Jo was connected to a corrupt, and possibly deadly, Italian family. An uproarious investigation ensues as the women sneak through alleys, meet a hardened criminal at Riker's Island, and stow away on a private jet. VERDICT It's Janet Evanovich's Grandma Mazur times four when the "direct, loud, demanding, impatient, and tactless" women get together for their fourth case (after Murder at Icicle Lodge). Fans of Stephanie Plum's adventures might want to sample the escapades of four Italian American women in New Jersey."
—Lesa Holstine, Evansville Vanderburgh P.L., IN
SIGN UP TO RECEIVE NEWS & UPDATES