MURDER IN TRANQUILITY PARK
Book 2 in the Ferrara Family Mystery Series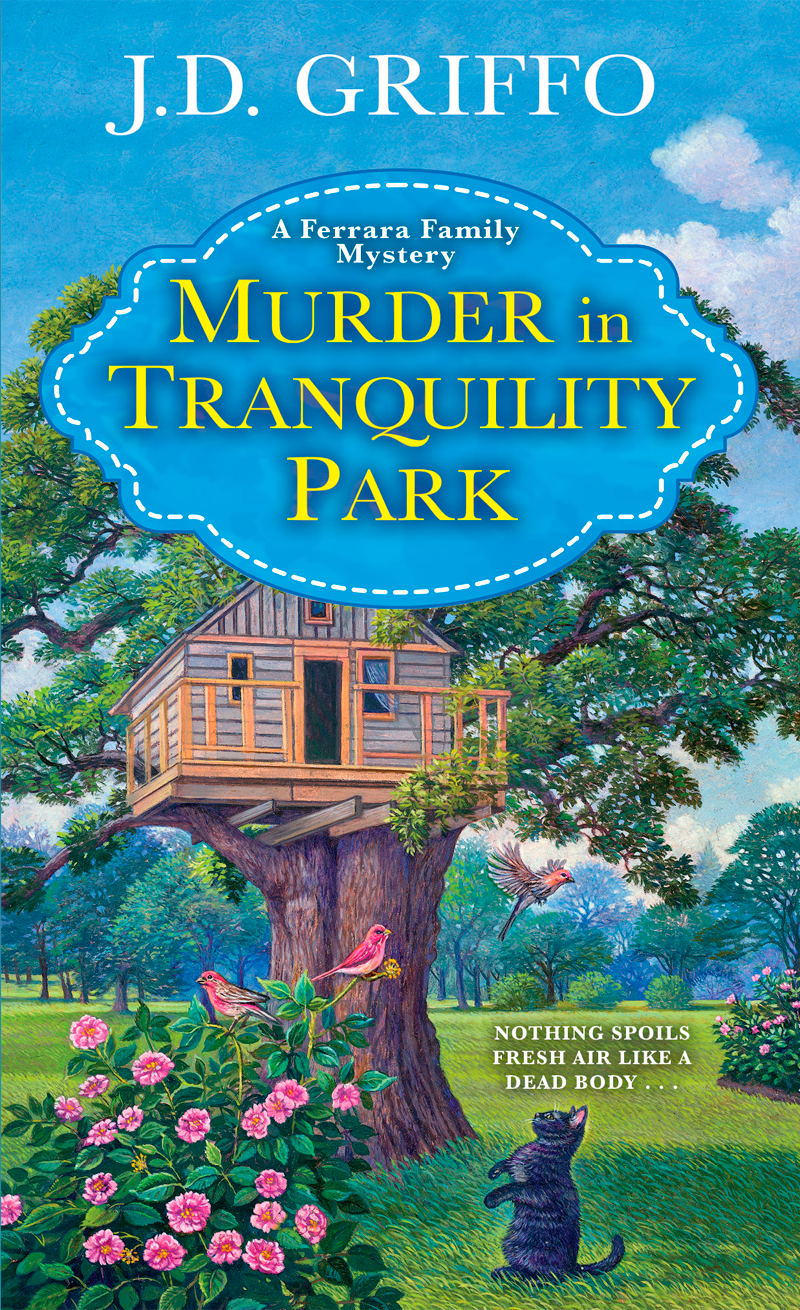 Alberta Scaglione and her twentysomething granddaughter, Jinx, love to spend time—and solve crime—together . . .
 
Ever since Alberta Scaglione inherited her spinster aunt's Cape Cod cottage, she's been enjoying the good life in Tranquility, New Jersey, with her black cat, Lola. But since things are mostly quiet in this town, she finds other things to do—like joining Jinx for morning jogs in Tranquility Park. She has to do something to stay healthy, as long as it doesn't involve Jinx's healthful tofu sausages and gluten-free pasta. But when they stumble across a treehouse hidden in the trees, and a dead body underneath it, they take a detour into solving a murder. Now the Ferrara ladies will have to exercise extreme caution to avoid a permanent decline in their health . . .
Includes Italian recipes from Alberta's kitchen!
GET THE BOOK
WHAT READERS ARE SAYING
"Murder in Tranquility Park is just as much fun as Murder on Memory Lake, the first book in this series. The Ferrara Family are a hoot. A huge Italian family who stick together through thick and thin. After solving a murder, they have decided that they are a detecting agency and are all set to solve other crimes. I love Alberta and her granddaughter Jinx. They are great friends as well as relatives. Jinx has convinced Alberta to start taking care of herself, so out running one morning they stumble upon their next case. In Tranquility Park, under a tree house, they find a body. It looks like he died from an accidental fall, but Alberta's great observation skills open up the very real possibility that it was a murder.
I love how Alberta, her sister Helen, sister-in-law Joyce and Jinx all work together when there's a murder. This family is quite interesting as well as smart. You have a reporter, ex-nun, and a lawyer. They are a quirky group, and are they tenacious. In this book, Jinx's boyfriend Freddy and Alberta's boyfriend Sloan also get involved in the investigation. We meet some new characters as well as some familiar ones. Police Chief, Vinnie, once again allows the Ferrara family some leeway in investigating. When he was young, Alberta babysat him, so they had a relationship from the past. The plot was well-developed and the pace was quite quick. I was pretty sure I had figured out who the murderer was, but with one final twist, I was blown out of the water. The ending was quite tense and surprising. Having said all that, I really enjoyed this story. This was a very quick read that I enjoyed right from the beginning. If you enjoy a cozy with quirky characters, a quick story with a great mystery and ending, then pick up this book or the first in the series. I am sure you will enjoy it. The publisher generously provided me with a copy of this book upon request. The rating, ideas and opinions shared are my own."
– GRATEFUL GRANDMA
"This is the second book in the Ferrara Family Detective Agency series and it's just as enjoyable as the first one. Alberta, aged 64, lives in the house left to her (for reasons unknown) by her aunt, along with a very large chunk of change. She is settling in well in this small New Jersey town, one she knew well growing up. Now she, along with her sister, Helen (a former nun – why she left is her secret), Joyce, her sister-in-law (a larger than life flamboyant lady) and last, but not least, Alberta's 20 something granddaughter Jinx. All of these wonderful women are starting a new chapter in their lives and have found that they have a knack for investigation and solving murders. Vinnie is the chief of police and is a childhood friend of Alberta. He resorts to, shall we say, raising his voice often when dealing with this gang but he does have respect for their insight. He just worries a lot that they will come to harm while snooping all over town.
Jinx has talked Alberta into getting into shape by jogging three days a week. The only thing Alberta finds as a plus in this endeavor is how much she really likes her new sports bra – no more underwires for her. On the morning of their 1 1/2 mile jog to the park and back homicide joins them. As they pass by a huge old tree, Alberta, for the first time, notices there is a tree house 10 feet up in the tree and no ladder. One the way back, they stumble upon the body of Jonas, a local drunk and it would appear that he fell out of the tree house. Alberta and Jinx see it otherwise, call in the rest of the ladies and then she calls Vinnie. Jinx goes into reporter mode, hoping that her boss at the local newspaper will let her cover the story without her having to beg for it. Alberta starts gathering clues that point to murder. The killer didn't figure on the victim being found by Alberta and with her keen eye and sharp mind.
This series has found its place on my list of must read mysteries. It has a well crafted mystery, multi faceted characters and just enough real life and humor to balance it out. Now I have to wait – eagerly – for the next mystery, Murder at Icicle Lodge, coming out November 26, 2019."
– SUSAN E.
SIGN UP TO RECEIVE NEWS & UPDATES