MURDER AT ICICLE LODGE
Book 3 in the Ferrara Family Mystery Series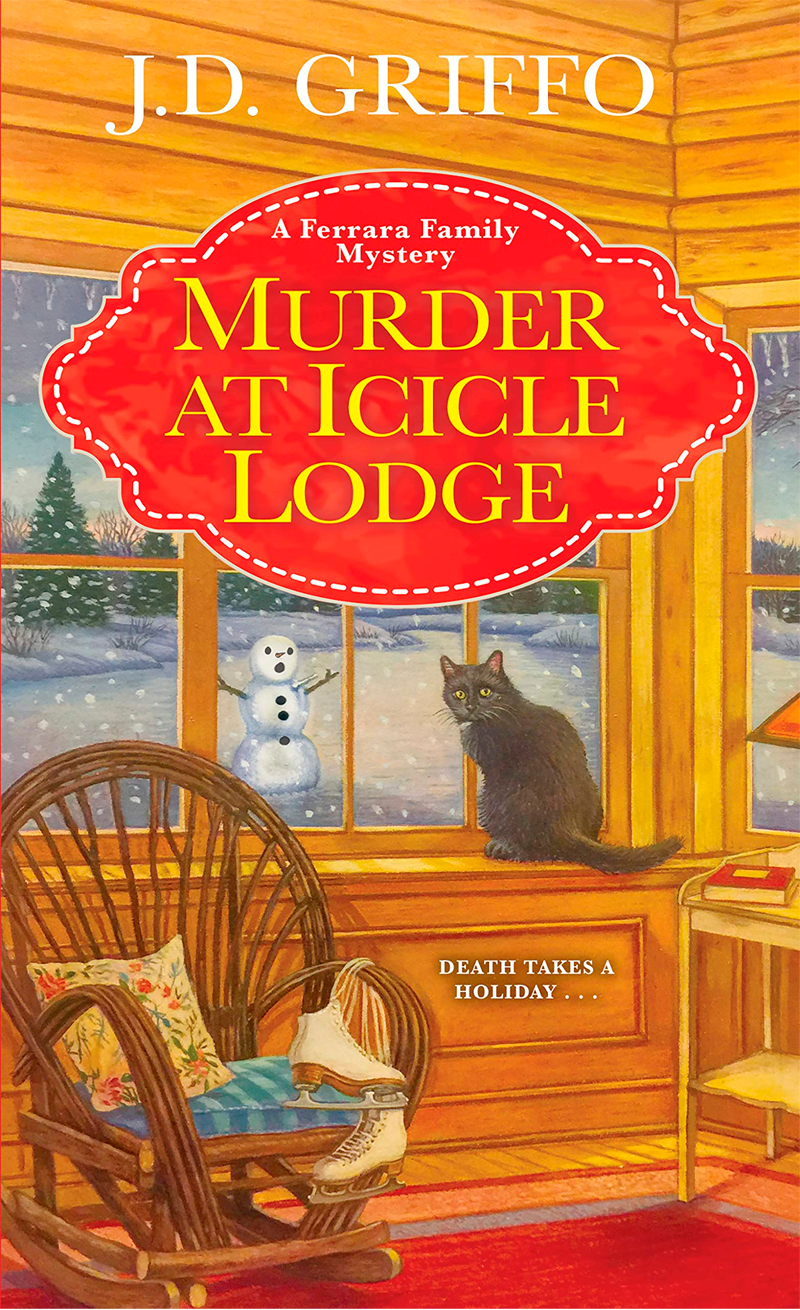 Seasoned Italian-American Alberta Scaglione can whip up a traditional dish for any occasion. But when an impromptu vacation turns deadly, can she sift out the deadly ingredient?
 
When her granddaughter lands a reporting gig at the grand opening of the luxurious Icicle Lodge, Alberta and friends tag along for a week of much-needed R&R amid the snowcapped hills of northeastern Pennsylvania. But the idyllic winter getaway becomes a nightmare after the gang discovers blood on the ice—and the dead body of celebrity guest Pamela Gregory, a frosty Olympic gold medal figure skater who won herself more enemies than fans . . .
With a killer on the loose, multiple suspects, and a blizzard on the way, Alberta must now race to crack a bone-chilling case . . . before the outspoken Ferrara ladies get served murder: family style!
Includes Italian recipes from Alberta's kitchen!
GET THE BOOK
WHAT READERS ARE SAYING
"This is the 3rd in series and a perfect Holiday theme read ! I love the setting, the mystery and the charcters. I have read the previous in series and always enjoy returning to this series. Thank you for the advance reading copy to the publisher and to Net Galley. My review opinions are my own..
I was very impressed right away that this reminded me of Dame Agatha Christie and her winter time mysteries.. This is the perfect setting of a mysterious luxury lodge in the snow during the holiday time. I love the descriptions of the various charcters staying at the lodge and the accommodations.
Alberta tags along with her Granddaughter when she has a gig at a luxury lodge with her Aunt and Alberta's sister in law as company. Soon after they arrive celebrity guest Pamela Gregory is found murdered on the ice skating rink. To make matters worse, a terrible snow blizzard leaves everyone trapped at the lodge. Now Alberta and her Granddaughter and her sisters must find out what happened and hope to solve the mystery before another murder occurs. Tempers flare among the guests with everyone snowbound as the investigation continues.
I love this sleuth with all the differing characters among the perfect murder setting. This was enjoyable to read cover to cover and I look forward to the next in series. Very well done to the author."
– COZY CAT REVIEWS
SIGN UP TO RECEIVE NEWS & UPDATES